Nothing represents the holidays more than a special occasion dinner like smoked beef tenderloin!
Although this large, tender cut of beef is often sliced into filet mignon steaks, whole tenderloin is available as a special treat and can be marinated and smoked on your pellet grill or big green egg to add to the festivities.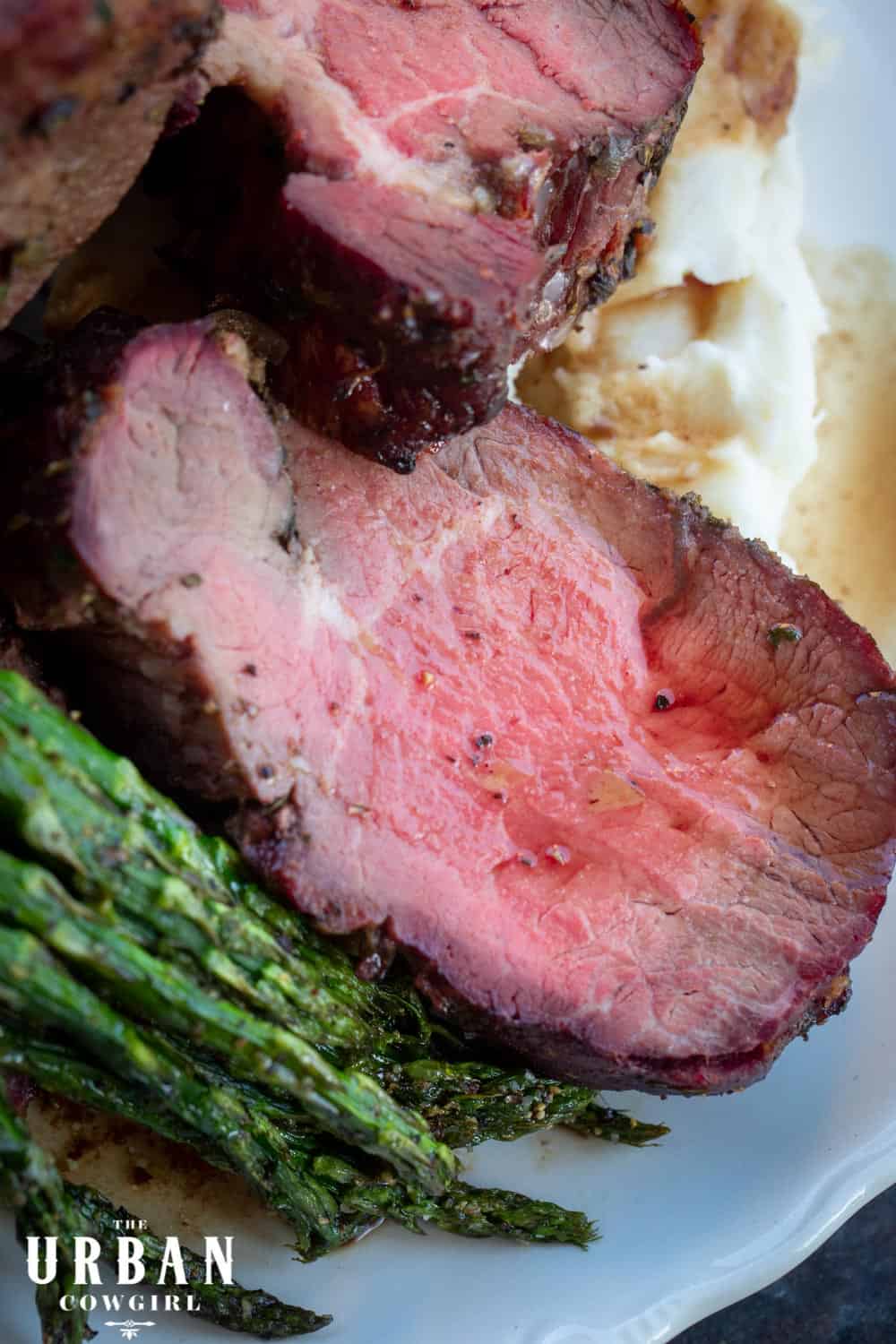 Traditionally, a whole beef tenderloin is browned in a pan and roasted in the oven, then cut into medallions, but there is nothing stopping you from smoking or grilling a beef tenderloin.
The muscle of beef tenderloin is extremely tender because it contains no connective tissue like traditional smoked cuts of meat.
It looks like a small log of beef and is found in the loin area, which is soft and wonderfully tender. For this reason, our smoking time will be brief, just to add a wonderful smoke flavor to the meat, and we'll finish it off by searing the outside over high heat for a delicious golden brown crust.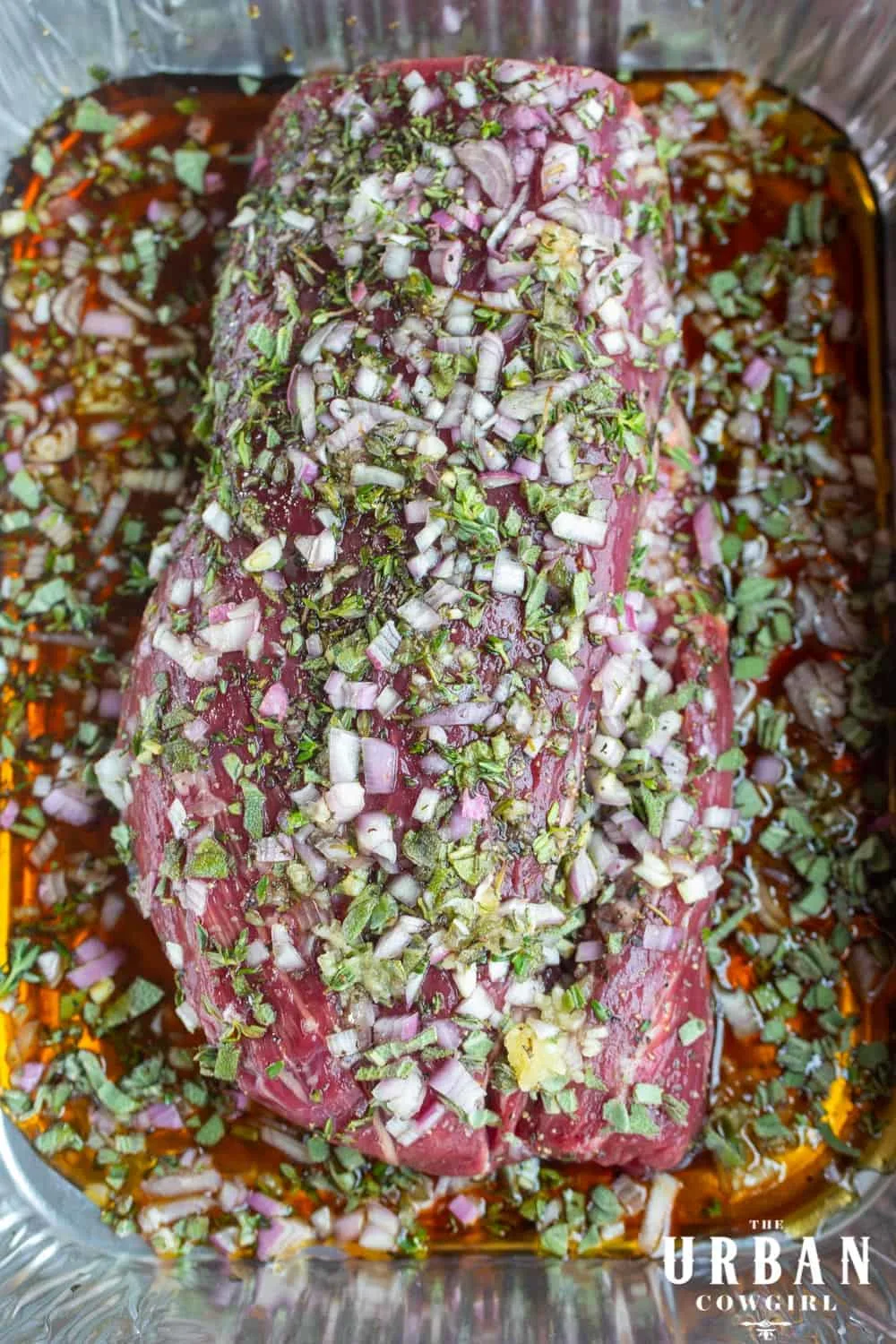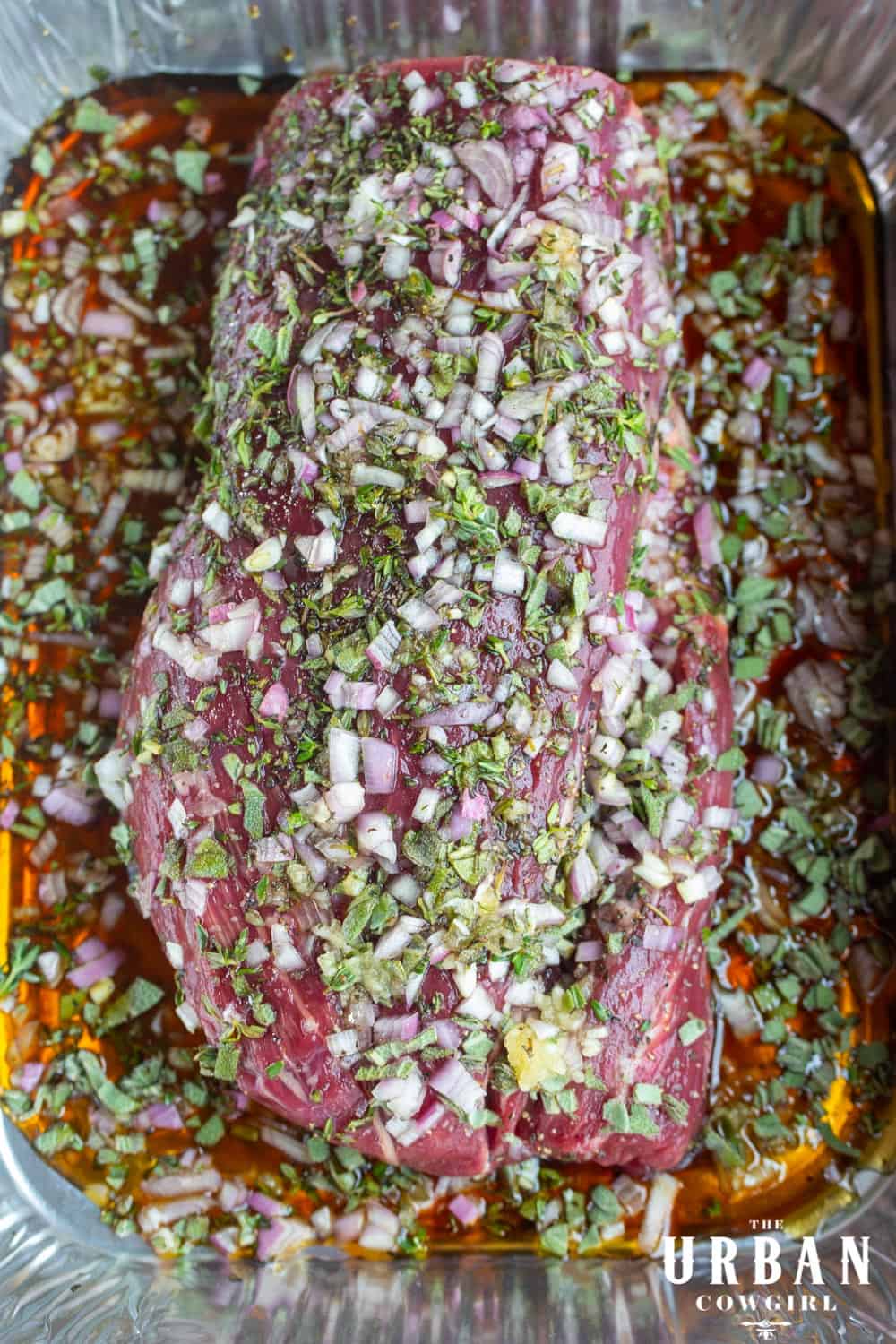 You also have the option of marinating the beef in this festive maple shallot marinade, which I created for the Horseshoe Bay Food & Wine Festival and wanted to share with you as a Thanksgiving or Christmas-themed punch of extra rich flavor! It's insanely delicious.
This marinade is a sweet celebration of all the flavors of fall and winter. Maple syrup gives the beef a whisper of sweetness, fresh herbs like aromatic sage and thyme for a nostalgic holiday aroma, and shallot and garlic for that professional touch that really makes the steaks taste like they came from a fancy restaurant.
But you can also smoke your tenderloin simply using your favorite beef rub, or a simple seasoning of olive oil, kosher salt, fresh black pepper, and herbs.
This recipe will guide you through the smoking process and the reverse sear method, but all seasoning and marinade options are free for you to fine-tune to your liking.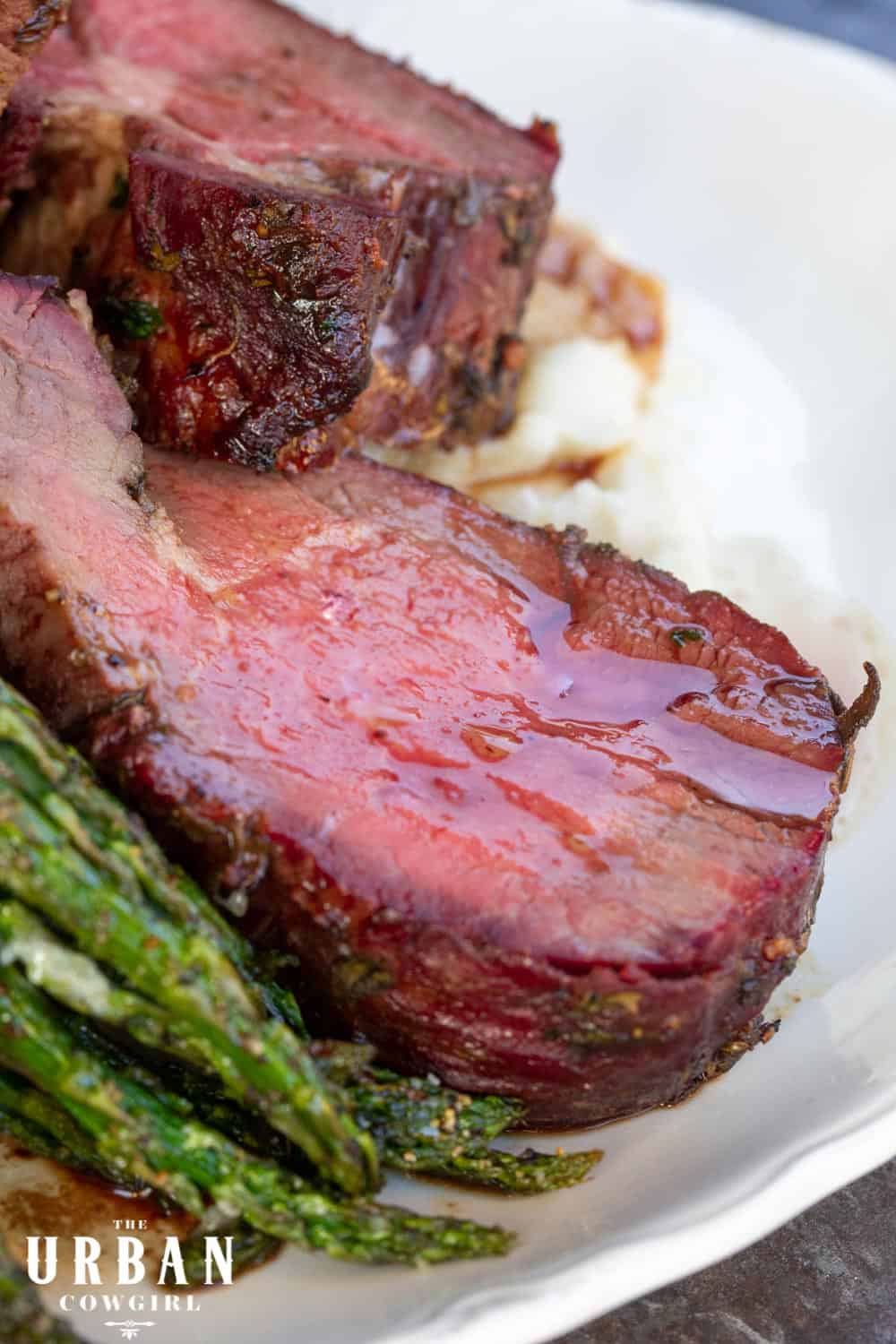 How Many People Will A Whole Beef Tenderloin Roast Feed?
A whole beef tenderloin will serve 9-10, 2.5 inch steaks. These are in the range of 5-6 oz each and will provide I nice serving to your guests.
When I cater, I purchase the whole beef tenderloin, trim it myself, and consistently serve 9-10 people per tenderloin.
This does not include the tips and tails you'll trim off from the edges of the beef tenderloin. (Keep those for tasting as you go, or for the kiddos.) Serving smaller steaks will get you a few more servings, or some helpings for children.
Where Can I Buy a Whole Beef Tenderloin?
Sam's and Costco usually have whole beef tenderloin year-round and I purchase it sealed in cryovac, or airtight plastic wrapping. Because the seal is airtight, the tenderloin has a longer shelf life in your refrigerator than butcher paper wrapped steaks.
In this way, it is safe to buy a beef tenderloin roast a week before the holiday cooking prep begins and leave it in a spare refrigerator. This prevents last-minute runs to the store or finding out that your favorite store has already sold out for the holiday.
Leave it sealed and it will stay bright and rosy red until you open the package and begin the marinade.
You can also purchase from your favorite butcher shop. Make sure to tell them how many people you intend to feed so that they can help you select the right size.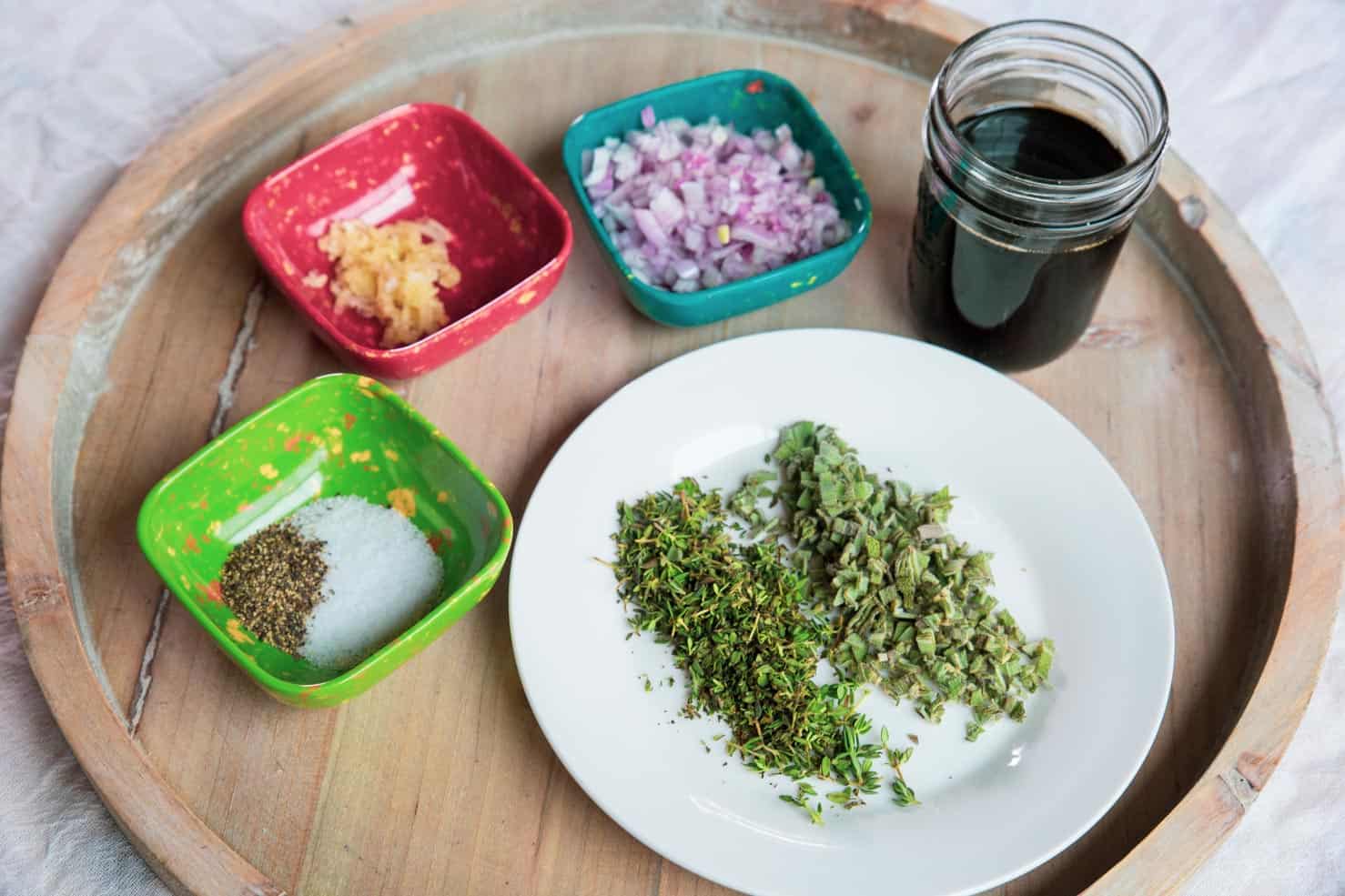 Preparing the Maple Shallot Marinade For A Holiday Dinner
The festive fall flavor in this dish comes from this sweet maple-based marinade which needs to be prepared and arranged for the meat to soak in for 24-48 hours.
The marinade is easy to make, you'll just add all of the ingredients to an aluminum tin or a zip lock bag and toss the tenderloin in. Refrigerate the tenderloin turning it every 12 hours.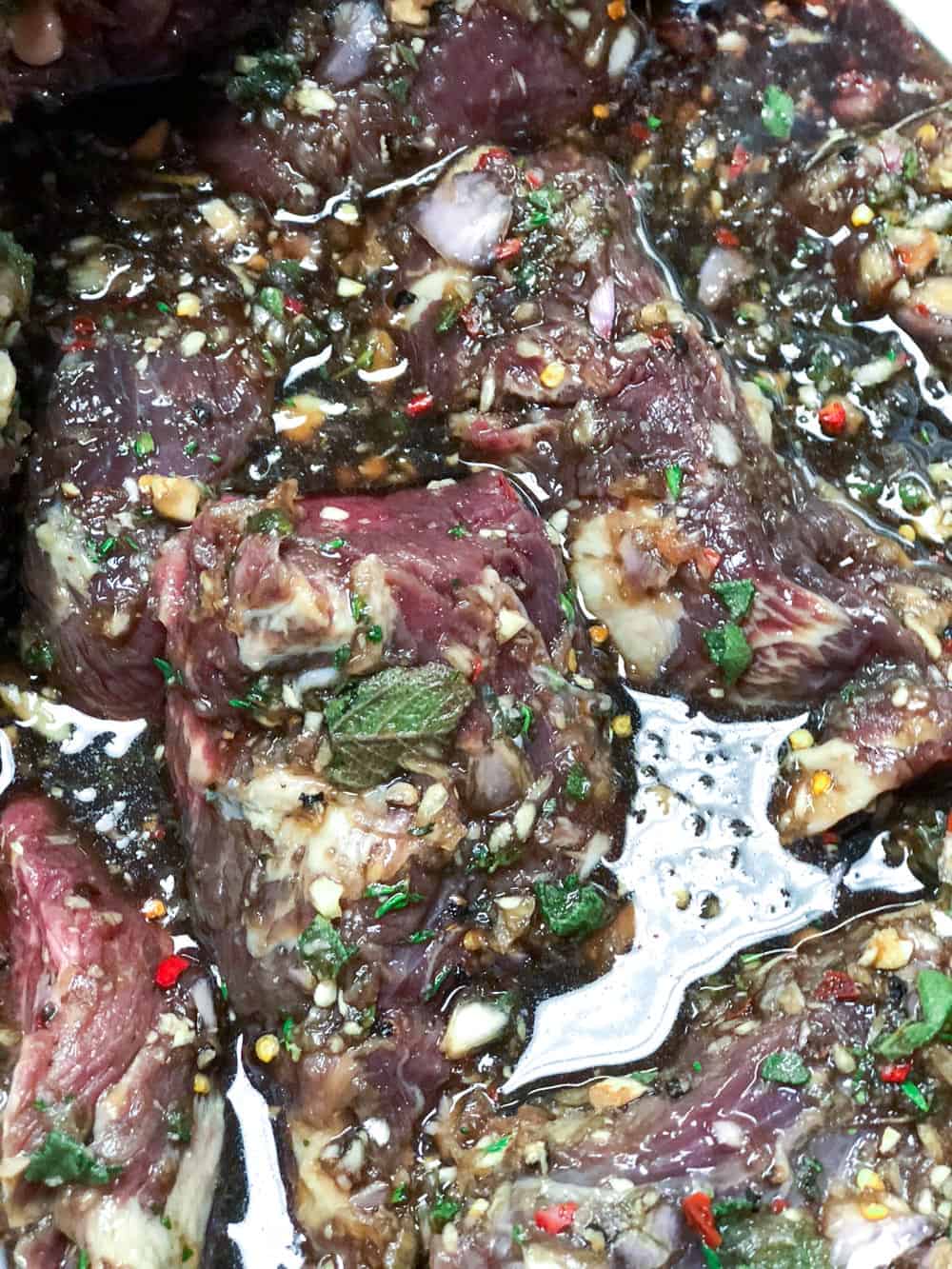 We have tested this recipe for up to three days in the marinade and the longer it sits the sweeter it becomes. For just a whisper of flavor, I recommend 24-48 hours. You'll find the beef changes from rosy red to a richer brown, and that's perfectly normal.
We cut the tenderloin in half for maximum surface ratio to marinade, and also because it is easier to handle with tongs when it's time to place it on the barbecue smoker. You may also choose to leave yours whole and wrap with butcher's twine for stability, but this is optional.
How to Smoke Beef Tenderloin
Beef tenderloin is a luxurious and expensive cut of meat that doesn't require hours to break down so we recommend smoking at 250-300 degrees.
Trim the beef tenderloin of any silver skin with a sharp knife.
Cut off the tips and tails so that you have a uniform piece of meat to work with…don't throw away those delicious tips. Just marinade and smoke them as well. They make great servings for the kids.
Cut the tenderloin in half if it is easier for you to handle it in two pieces. This is optional and up to the cook.
Marinade for 24-48 hours, this step is optional but we love this marinade recipe.
Prepare the barbecue smoker with wood chips, pellets, or wood chunks. Clean the grill grate and bring the smoker up to 250-300 degrees.
Place a temperature probe into the center of the tenderloin to monitor the internal temperature of the meat.
Smoke the tenderloin for several hours, or until it hits the target temperatures listed for your degree of doneness, see the chart below.
Sear the meat using a hot grill, a hot pan, or whatever reverse sear method you prefer.
When To Pull Smoked Beef Tenderloin Off The Smoker
| | |
| --- | --- |
| Rare | 120-125 degrees |
| Medium Rare | 130-135 degrees |
| Medium | 138-140 degrees |
| Medium Well | 140-145 degrees |
| Well Done (not recommended) | Over 145 degrees |
Temperatures for degrees of doneness for beef tenderloin
Tips for Smoking Beef Tenderloin On Various Smokers:
Smoking a beef tenderloin is a project that can be done on any smoker and even a charcoal grill. Here are some specific tips for each setup.
PELLET SMOKER: This can be achieved by using your pellet smoker at 250-300 degrees with a high feed rate on the pellets to achieve more smoke.
ON A STICK SMOKER: Smoke the tenderloin right next to the firebox where the temperature creeps higher than the rest of the smoker. Bring the smoke chamber to 250-300 degrees, and remove when the beef tenderloin roast hits your desired temperature.
ON A CHARCOAL GRILL: Build the charcoal fire on the far side of the grill and smoke the beef tenderloin on the other side over indirect heat. Soaked wood chips can be added to your charcoal to infuse the beef with fragrant wood smoke.
Some of the best woods for smoking beef tenderloin are hickory, pecan, oak, and peach wood.
How Long Does It Take To Smoke A Beef Tenderloin
Smoking at 250 degrees, a whole beef tenderloin will be ready to sear in approximately 1 hour.
Smoking at 300 degrees, a whole beef tenderloin will be ready to sear in 30- 40 minutes.
What Temperature Should I Smoke Beef Tenderloin to?
The best way to smoke beef tenderloin is by cooking to an internal temperature of how well done you like your steak.
This is done using a meat thermometer probe inserted into the beef tenderloin during smoking for instant real-time read-outs. A digital thermometer may also be used to track the internal temperature.
The center of the roast will be the most rare with the meat outside the center gradually more well done, so keep this in mind when determining what temperature you would like to cook to.
Pull the smoked tenderloin 10 degrees cooler than your intended target to allow for reverse searing.
Reverse Searing Smoked Beef Tenderloin
After smoking, the tenderloin is ready to slice and serve but most people prefer a technique called reverse searing. In this method, the smoked tenderloin is briefly seared to create a golden brown crust.
It's an optional part of the cooking process but a great way to give the final dish a steakhouse look.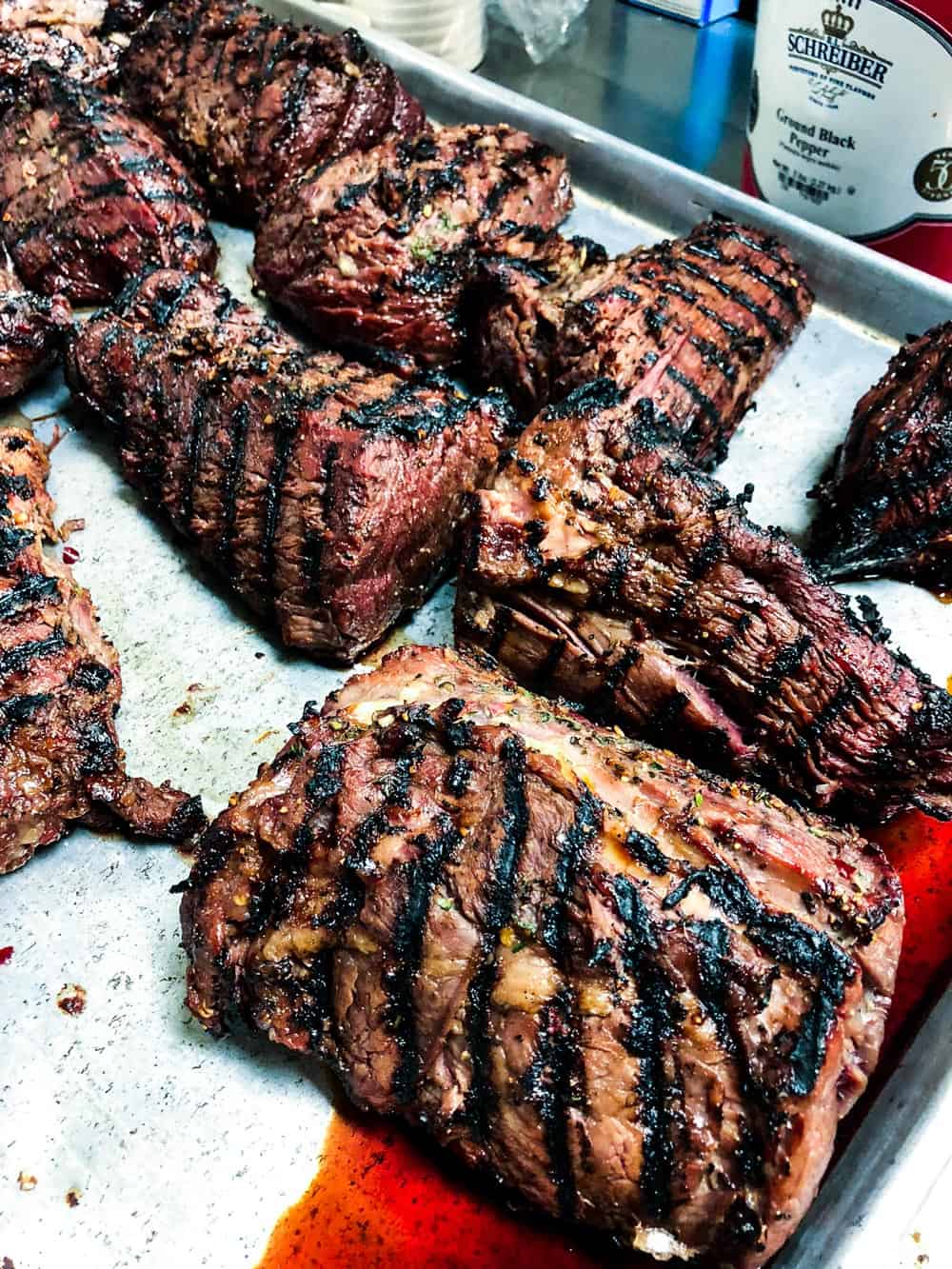 Reverse searing can be done over hot charcoal or a gas grill, or simply in a hot cast iron pan. The idea is to season the exterior with salt, pepper, onion powder, and garlic powder, or beef dry rub, and then sear it over high heat, 3-4 minutes per side to get a nice brown sear.
After searing place the meat on a cutting board to rest. Let the meat rest for 10-15 minutes before slicing individual steaks.
Looking for Ideas to Serve With Your Beef Tenderloin?
Check out these recipes…
Yield:

8-10
Smoked Beef Tenderloin Recipe
Total Time:
2 days
55 minutes
This smoked beef tenderloin is succulent and juicy with a flair for the holidays provided by the sweet maple and shallot marinade. Smoked on any pellet or traditional smoker, this recipe is a big win for making smoked meats perfect for a special occasion.
Ingredients
1 beef tenderloin, trimmed
1 c. maple syrup
2 garlic cloves, pressed through a garlic press
1 large shallot, diced as fine as possible
1 T. fresh thyme, chopped
1 T. fresh sage, chopped
1 t. kosher salt
½ t. black pepper
Instructions
In a small bowl, add all of the marinade ingredients together and stir well. Pour the marinade into an aluminum pan with a lid or even a zip lock bag to marinate the beef tenderloin.
Add the trimmed beef tenderloin and marinate in the refrigerator for 24-48 hours, turning occasionally with tongs.
Prep your smoker with wood pellets or wood and heat the smoker to 250-300 degrees f. Remove the beef tenderloin from the marinade and set it on a plate. Let it come to room temperature.
Place a meat thermometer into the thickest part of the tenderloin. Smoke until the meat probe thermometer registers your target temperature. Be aware that the center will be the rarest with the meat on the exterior of the tenderloin getting gradually more cooked.
If you intend on reverse searing the beef tenderloin, pull it about 10-15 degrees cooler to account for the heat applied during searing.
120-125 Rare, 130-135 Medium Rare, Medium 138-140, Medium Well 140-145, Well done - Over 145
Remove the tenderloin from the smoker or grill and tent loosely with aluminum foil to rest for 10 minutes.
Slice the tenderloin into medallions and serve with your favorite holiday sides.
Nutrition Information:
Yield:
10
Serving Size:
1
Amount Per Serving:
Calories:

115
Total Fat:

2g
Saturated Fat:

1g
Trans Fat:

0g
Unsaturated Fat:

1g
Cholesterol:

7mg
Sodium:

135mg
Carbohydrates:

22g
Fiber:

0g
Sugar:

20g
Protein:

2g
This nutritional information is provided as a courtesy as an estimate only. Consult with a dietician for precise estimates. This website makes no claims that the nutritional values listed are accurate.